HFSA Annual Scientific Meeting 2022
Where heart failure teams gather…
HFSA Annual Scientific Meeting : September 30 - October 3, 2022
Gaylord National Resort & Convention Center
National Harbor, Maryland
The HFSA Annual Scientific Meeting has gained a reputation as an outstanding forum for presentation of the latest information available (clinical and basic research, treatment and care of patients) in the field of heart failure. It is the CAN'T-MISS meeting for all members of the heart failure care team, featuring a robust, team-based educational program taught by a multidisciplinary line-up of industry experts.
The meeting provides a state-of-the-art platform for industry leaders to share experiences and expertise through symposia, lectures, debates, poster presentations, and how-to workshops, while providing attendees enriching opportunities to network with colleagues. It is the place to be for cutting-edge research, the newest technologies, and proven best practices in heart failure care.
About the Heart Failure Society of America
The Heart Failure Society of America (HFSA) is a professional society devoted exclusively to improving and expanding heart failure care through collaboration, education, research, innovations, and advocacy.
HFSA is the only organization in America representing all members of the multidisciplinary heart failure team, including 2,000+ physicians, nurses, pharmacists, scientists and patients. HFSA is driven by a vision to reduce the burden of heart failure on patients and families worldwide.
Meeting Location
The HFSA Annual Scientific Meeting 2022 will be held at the Gaylord National Resort & Convention Center of National Harbor.
201 Waterfront Street
National Harbor, Maryland, 20745
Phone: +1 301-965-4000
Website: Gaylord National Resort & Convention Center
Why You Should Exhibit
HFSA's ASM is one of the only cardiology meetings focused exclusively on heart failure.
A hybrid meeting offers the best of both formats with face-to-face interaction for those looking to spend time with colleagues and virtual participation to expand our reach to those who cannot join us in Washington, DC with on-demand options for key sessions that allow for extended and flexible viewing times.
Interact with visionary and dedicated leaders in the heart failure field who are interested in keeping up with the latest treatments, technologies and products.
Reach all members of the heart failure team, including cardiologists, CV surgeons, physicians, nurses, pharmacists, researchers, and health care administrators at this one-stop meeting.
Access All Members of the Heart Failure Team:
Cardiologists, CV Surgeons, Internists and Primary Care
Physicians
Clinical Researchers
Cardiac Rehabilitation Professionals
Nurses, Nurse Practitioners
Epidemiologists
Health Care Administrators
Industry
Pharmacists, Pharmacologists
Physician Assistants
Research Scientists
The attendees are primarily professionals dedicated to research and clinical care of patients with heart failure. They are highly motivated and interested in keeping abreast of the latest developments and advances in the treatment and care of heart failure patients. HFSA does not collect NPI numbers of attendees.
Attendee Demographics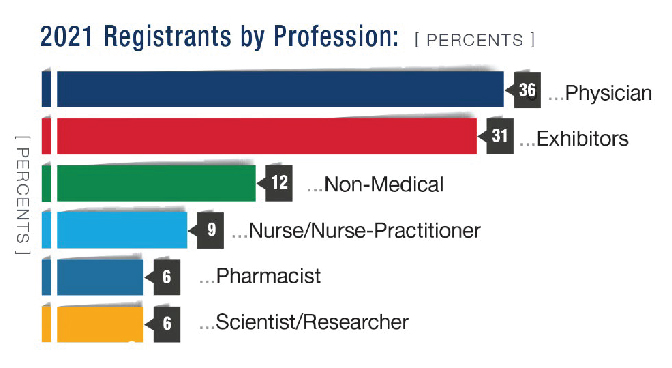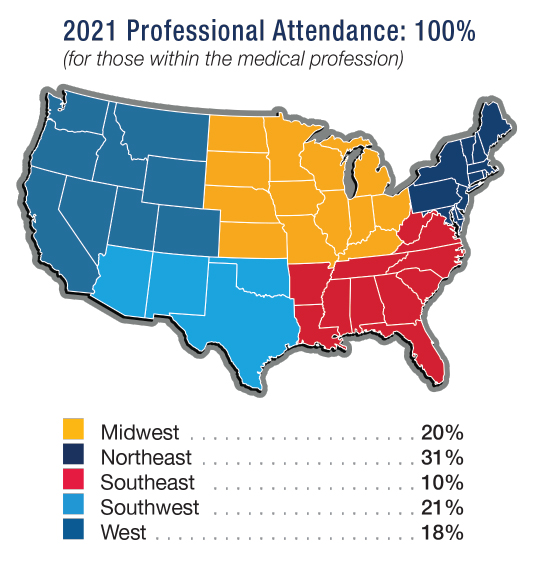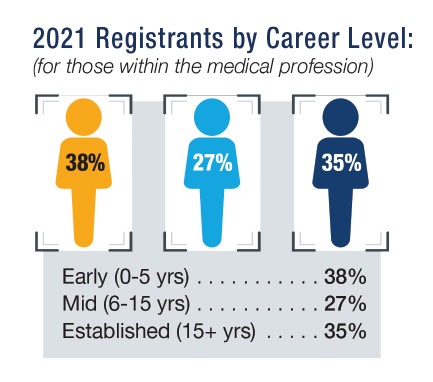 2019 – 2021 Exhibitors
Abbott
ABIOMED
Advocate Aurora Health
Akcea Therapeutics
Alnylam Pharmaceuticals
Ambry Genetics, A Konica Minolta Company
American Association of Heart Failure Nurses (AAHFN)
American Board of Internal Medicine
American College of Cardiology
American Heart Association
Amgen Inc.
Amyloidosis Foundation
Amyloidosis Research Consortium
Arbor Pharmaceuticals, LLC
AstraZeneca
BioCardia, Inc.
Biotronik, Inc.
Boehringer Ingelheim Pharmaceuticals, Inc. / Lilly
Boston Scientific
Bristol Myers Sqibb
Cape Fear Heart
Cardiotropic Labs
CardioVere
CareDx, Inc.
CCSTrials
CHF Solutions
CMP Pharmaceuticals
Cormeum
CV Remote Solutions
CVRx
Cytokinetics, Inc.
Daiichi Sankyo, Inc.
Daxor Corporation
EBR Systems, Inc.
Eidos Therapeutics
Endotronix
Evaheart, Inc.
Galiano
Getinge
Houston Methodist J.C. Walter Jr. Transplant Center
Hypertrophic Cardiomyopathy Association
ImpediMed Inc.
Impulse Dynamics
Invitae
Ionis Pharmaceuticals, Inc.
Itamar Medical
Janssen Pharmaceuticals, Inc
Medicure Pharma, Inc./Sensible Medical
Mediknox
Medtronic
Merck & Co., Inc.
Myocarditis Foundation
MyoKardia, Inc.
Natera
Novartis Pharmaceuticals Corporation
Nuwellis, Inc.
OM1
Pfizer
Preventice Solutions
Relypsa, Inc, a Vifor Pharma Company
Respicardia, Inc.
scPharmaceuticals
Sensible Medical Innovations
SynCardia Systems, LLC
TandemLife | LivaNova
Ultromics
Vixiar Medical
V-Wave, Inc.
Vyaire Medical
WebCareHealth
XpertDox
ZOLL Medical
Content last updated on April 4th, 2022 at 12:30 pm